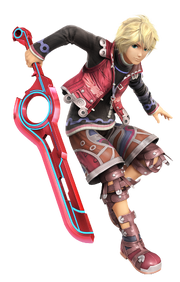 ---
Shulk is the main protagonist in the Xenoblade Chronicles series as well as the heir to the Monado. He does not rush into or through thinks, preferring to think about his choices. He is the wielder of the Monado, a mythical weapon of legendary destruction. He fights to avenge Fiora and end the war with Mechon. He also appears in the Super Smash Bros. series, as a playable character (starting with Super Smash Bros. for 3DS/Wii U).
---
Ad blocker interference detected!
Wikia is a free-to-use site that makes money from advertising. We have a modified experience for viewers using ad blockers

Wikia is not accessible if you've made further modifications. Remove the custom ad blocker rule(s) and the page will load as expected.